What's the best way to protect my data?
This may have been a question looming over you since you started your business, and is always in the back of your mind even now. The answer has evolved as much as anything has in the last 20, 10, or five years, or even in the last year. So rest assured you've been doing something right: You've been thinking about it. But it's better to do something about it.
That's where Axis comes in.
We perform in-depth IT security assessments. Using our advantage of being independent, we can provide an honest, clear-eyed view of your network's security condition. The result is that you get essential information on any security risks, including how to identify and assess them. Then, if you want, we'll create a strategy for you to secure your sensitive information from internal and external threats and keep your network compliance up to date.
We don't make more work for your managers and IT staff, either. Rather than leave you to train your entire staff on computer-security measures, we will host company-wide seminars to educate your employees on how to be more proactive when limiting access and protecting proprietary data.
Oh, and one other thing, when we say we want to protect you and your network from threats, we also mean the perceived threat of an outside IT services provider who holds the keys to your kingdom. At Axis, we will never lock you in to a service plan or hold your data hostage. We keep our approach transparent, so you can do what's best for your company.
Complimentary Security Assessment
Contact us and we'll review your network and create an NIST Cybersecurity report. We then provide the report to you, with no obligation. Please fill out the form below.
A NIST Cybersecurity Assessment Lets You Look at Your Network Like a Hacker Would
Generally speaking, IT assessments have a way of shining a bright light into the dark corners, and present a complete, warts-and-all view of the situation at hand. While it's an entirely different experience for those of us who try to look at the rosy side of a sales forecast, smart managers know assessments have their benefits: It's better to know what's really going on.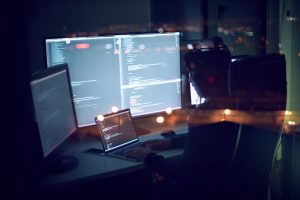 Never has it been more important to know what's really happening in the dark corners than now, particularly for any business that functions with computers and phones connected to the Internet (i.e. most businesses today). And we mean any business. Cyberattacks target small- and mid-sized businesses at an alarming rate: 66 percent of businesses surveyed reported an attack in the last 12 months according to a study by the Ponemon Institute conducted on behalf of Keeper Security. The study went on to explain that companies that suffered a data breach spent an average of $1.2 million to ameliorate the effect of the breach, while contending with losses of an average of $1.9 million due to disruption of operations. To put it simply, the threat is real, and it is increasing, both in frequency and in lasting effect.
An attack on cybersecurity can happen to virtually any business. Consider a major general merchandise retailer that had a security breach a few years back, losing the data of many millions of customers, including credit card information. This chain of stores had recently added fresh groceries to its product line, and the refrigeration systems were linked to the business network to allow monitoring of temperature in food-storage cases as a quality control metric. A contractor tasked with setting up the system in some locations had network-access credentials stored insecurely. If your business holds customer data, you have an understanding about the scope of this loss, including the well-placed trust of customers. Think about what it would take to recover.
Axis Computer Networks offers a NIST cybersecurity assessment as a free service with no obligation. This assessment can provide a clear picture of any company's network: a clear breakdown of what works and what doesn't, where failures and weak points may be hiding, and how access to secure areas can be limited and protected more effectively.
Aside from fixing any weak points in the security of a network, Axis offers several solutions to improve security and mitigate the damage of cyberattacks.
Fill out the form below and someone from Axis Computer Networks will arrange a NIST Cybersecurity Assessment for your network. The next steps will be up to you.
Fields with a * are required.